Microsoft LOVES Linux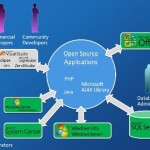 Back in 2001, Microsoft used to attack Linux like it was a cancer but now they love Linux. Wow!
"Microsoft loves Linux" is generally not something one expects to hear, but that was one of the messages that Microsoft CEO Satya Nadella delivered at a San Francisco media event touting Redmond's cloud offerings on Monday.
According to Nadella, 20 per cent of Microsoft's Azure cloud is already Linux and the software giant plans to always have first-class support for Linux distributions in its public cloud offerings.
Read the full story